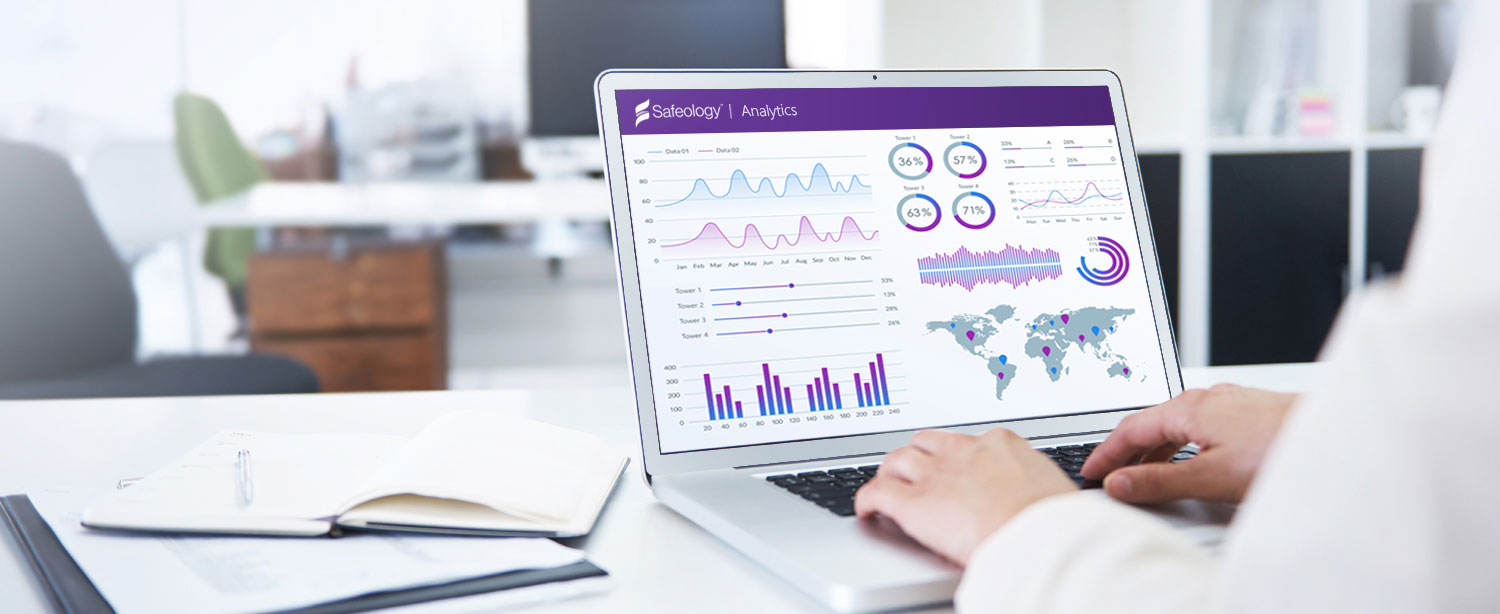 The Safeology Approach
A comprehensive IoT and technology-driven solution to UVC disinfection.
Only Safeology™ offers a holistic approach to disinfection that goes well beyond the UVC products themselves. Safeology's proprietary Custom Software Suite (CSS) integrates unique technology features that make operation simple, effective and safe. Using statistical genome modeling, evidence-based experimentation, and computational dosage mapping combined with cloud-based software solutions and safety monitoring artificial intelligence, Safeology provides the most advance UVC cleaning technology available.
A superior software solution.
Safeology combines the latest in UVC science with innovative technology to ensure outstanding UVC cleaning performance while emphasizing user safety. The Safeology UVC Tower Elite  Custom Software Suite offers a cloud-based web solution for back-end system management, including real-time tracking and control, disinfection validation, remote software updates, AI safety monitoring, and lamp efficacy and maintenance data. Our custom mobile app provides a user-friendly interface for easy provisioning, control, and cycle completion notification. In addition, our computer-aided modeling can calculate the required UVC dosage for any space.
Computer-aided modeling
Effective disinfection requires utilizing the correct dosage of UVC light, which is determined by the size of the space and the intensity and duration of UVC emittance needed to inactivate pathogens.
UVC dosage analysis for any space
Product quantity recommendations based upon statistical analysis
Cloud-based management
Safeology's IoT integration collects important data using the systems that can be accessed anywhere at any time via the Cloud, providing you the information necessary to optimize the safe and effective use of the Safeology UVC Tower Elite.
Centralized monitoring and control
Real-time data tracking and analysis
Room-based cleaning validation and statistics
Lamp operations, efficacy and maintenance monitoring
Staff operations tracking and reporting
Artificial Intelligence (AI) safety monitoring
Remote software updates
Tower application operations
The Safeology UVC Tower Elite comes with a mobile device pre-loaded with the Safeology custom app. Designed for ease of use, the app helps administrators and operators quickly and easily create accounts, set up equipment, establish cleaning parameters, program cleaning cycles, manage the Tower fleet, and operate individual Towers.
User-friendly interface
Easy provisioning and simple operations
Tower fleet location tracking and status
Disinfection cycle programming
Cleaning cycle status
Equipment alert notifications
Cycle completion updates
A focus on safety.
Safeology products have multiple layers of integrated protection to prevent accidental exposure.
1 The term pathogens, as used in Safeology literature, refers to the broader category of disease-producing germs, including viruses, bacteria and spores. While UVC light has been proven effective in inactivating or eliminating various pathogens, the dosage of UVC exposure (UVC intensity over time) required to do so may vary by pathogen type. Pathogens, in general, require different levels of exposure for disinfection. Some can be inactivated relatively quickly, while others require longer exposure to UVC.