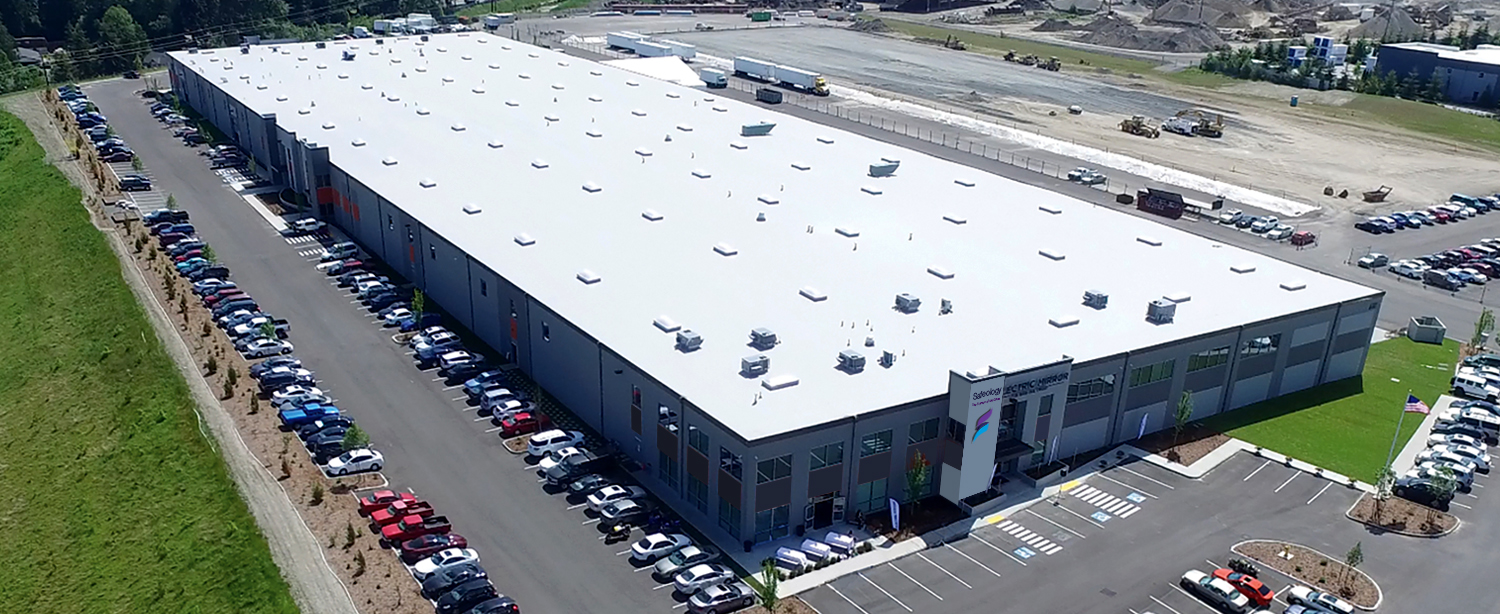 Our Company
The leading UVC disinfection experts, working to keep the world safe from viruses.
Safeology™, the UVC disinfection expert, brings research, technology and manufacturing together to create clean spaces free of pathogens like viruses and bacteria. Located in Everett, Washington, our 125,000 square foot manufacturing facility is home to hundreds of employees who come to work every day united around a single mission: creating a cleaner, safer world.
How Safeology Began
On January 21, 2020, the first person in the U.S. was diagnosed with COVID-19 in Everett, Washington – our hometown. Shortly thereafter a major outbreak occurred at a nearby nursing home and many succumbed to the virus. At this same time, my first child, America Piper, was born. Sitting in the hospital with my newborn daughter and my wife Jenae, nothing mattered more to me than keeping them safe.
As the number of COVID-19 cases continued to grow, like so many Americans, so too did our apprehension and alarm. Our family business rushed to implement safety guidelines and work-from-home policies, and wondered how we could make a difference in the battle against the coronavirus.
Our company has always been at the forefront of lighting and technology innovation, so when my brother Aaron suggested we revive our UV technology to fight the virus, my family and our employees were all in. With over 20 years' experience in LED and lamp fixture technology, we had the engineering and lighting expertise, as well as U.S. manufacturing to produce products to fight the spread of COVID-19.
"We wondered how we could make a difference in the battle against the coronavirus."
I couldn't help but envision what the world would look like with UV disinfecting technology being used to fight viruses. Healthcare facilities could decontaminate surgical suites and patient rooms. Hotels could disinfect guest rooms and public spaces. Schools could sanitize classrooms and lunchrooms. Employers could clean offices and conference rooms. There's a virtually endless list of places where UV light technology can be used to reduce the spread of pathogens like the coronavirus to keep people safe. And with that vision, Safeology™ was born.
Our engineering, software and R&D teams quickly began developing new UV solutions. We assembled a Scientific Advisory Board of experts in infectious disease, microbiology, bioengineering and electrical engineering to guide and oversee our efforts. And within a few months of prototyping and testing, we were ready for large-scale manufacturing of Safeology UV disinfectant products.
Over the last 20 years our team has manufactured millions of lighting products with tens of thousands of installations in hotels, hospitals, senior living facilities, airports, stadiums, corporate headquarters, restaurants, apartments and homes. For our customers, as for most Americans, COVID-19 has devastated their businesses and their lives. Safeology was created for them, our families and our country.
Our mission is to help us all return to work, take back our lives, and restore our communities by using the science of light to create clean, virus-free spaces. We look forward to partnering with you to make yours one of them.

Jim Mischel, CEO
Safeology

Our Mission
Safeology leverages the science of light to create clean, pathogen-free spaces.

Our Vision
Safeology gives the world peace of mind, one virus-free space at a time.